2019 Twelfth National Doctors of Nursing Practice Conference: Washington, D.C.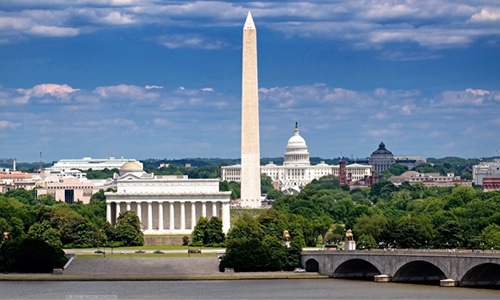 Contributions of the DNP Prepared Nurse: Policy Influencing Outcomes
August 7-9, 2019
  The Fairmont Washington, D.C., Georgetown




2401 M St NW




Washington, DC 20037




(202) 429-2400
2019 Conference Objectives
By the end of this conference participants will be able to:
1. Identify processes of developing and implementing policy to improve healthcare outcomes.
2. List examples of how the DNP prepared nurse participates in policy development and implementation
in academia, clinical practice, administration, research and informatics.
3. Describe ways that DNP prepared nursing professionals collaborate to influence change.
2019 Conference Registration Deadlines and Fees
Early Bird Registration ends
April 30, 2019 $490

Presenter Registration ends
June 15, 2019 $465
Student Registration Rate ends
July 1, 2019 $475

Military Registration Rate ends
July 1, 2019 $475

One Day Registration Rate ends
July 1, 2019 $255 (Not available for presenters)

Regular Conference Registration Rate is offered
May 1, 2019 through July 1, 2019 $555

Late & on site Conference Registration Rate is offered
July 2, 2019 through August 9, 2019 $605

The 12th National DNP Conference thanks the Fairmont Washington, DC Georgetown for being the host venue.
A percentage of room registrations has been designated as a rebate to defray conference expenses.
Continuing Education Contact Hours 15
To receive contact hours for this activity,
the participant must:
1. Attend selected breakout and plenary sessions in their entirety,
2. View and engage with the poster presenters,
3. Complete evaluation forms reflecting participation, insights and feedback.

This continuing nursing education activity was approved by the Georgia Nurses Association – Approver, an accredited approver by the American Nurses Credentialing Center's Commission on Accreditation.
15 Contact Hours Max
Activity ID 32051
Evaluation for Contact Hours
Thank you for registering for the 12th National Doctors of Nursing Practice Conference in Washington, DC on August 7-9, 2019. This year we will be conducting all program evaluations via an online evaluation and CE certificate system. Once you complete the program evaluations you will be able to claim your CE certificate as all CE tracking will be done online.

Please use the login information emailed to you 24 hours prior to the start of the conference to access the system and evaluate each session as you go through the conference. You can access the evaluation on your smartphone, tablet or laptop computer.

You will be asked for a username and password.

Your Username:

1919500 (example)

Your Password:

DNP

Be sure to complete the online evaluation no later than October 31, 2019, as we will be using your feedback to guide the direction of next year's conference. You will receive your Certificate of Attendance immediately after submitting your evaluation. Your certificate will be available for printing for 60 days after the conference.

If you have any questions about this on line evaluation process, please contact Stephen Campbell-O'Dell at skco@dnpinc.org or David Campbell-O'Dell info@dnpinc.org.
BEGIN YOUR EVALUATION
2019 Call for Student Volunteers
Accepting Student Volunteer Applications are now Closed
2019 Exhibitors and Sponsors Opportunities
**Custom Packages Available Upon Request**